Hood River Rotary = Service Above Self.
We volunteer, raise money, donate, deliver and support community service projects and help non profit organizations. Here and abroad, through local projects and Rotary international projects.
Rotary Golf Tournament 2019 - good time, good cause
Thank you for joining us at golf paradise - Hood River's iconic Indian Creek Golf Course - Sunday, September 8. Details are HERE
We sipped wine and winners of our wine raffle went home with cases of amazing local wines, Dakine travel bags and other great prizes.
Proceeds of the golf tournament support our annual scholarship program and other important local causes.
Come hang out - become a member of Hood River Rotary Club.
I mean, wow. Rough life! Golf - or hang - with us Sunday.
Can you believe we get to live in this beautiful place - give back - and golf? Join us at this weekend's Rotary Golf Tournament at Indian Creek Golf Course in Hood River.
Now that's what I'm talking about....
The new face of Rotary. And some seasoned ones, too.
What a wonderful group of people, committed to Service Above Self. Neighbors, colleagues, business contacts, and friends - we have, we are - in Hood River Rotary Club. Rotarians give back, right here in our own home town. And in home towns all across the world.
Here's a moment from last week's Installation dinner, wherein outgoing President Staci McCarthy (left) handed over the Rotary reins to 2019-20 President Emily Curtis (middle).
Who's the guy on the right, you may be asking? Probably not - because you already know. He is a longtime Rotarian. A Realtor and restauranteur (Celilo,) and former County Commissioner - Maui Meyer. He is a windsurfer who found this magical Gorge community early on, back in the day - and made it his own. But you knew that.
Photo by Rotarian Pete Fotheringham
Hood River Rotary: hard-working community servants
Our Rotary club is building a greenhouse for The Next Door, a local non profit social service agency. The initial work on the Raices Community Garden Greenhouse went well. The footings and posts went in and the site work was completed last weekend.
Check out the Rotary crew! Left to right: Scott Keillor, Jack Miller, seated: Michael McElwee, behind him: Dave Bick, Dave Simon, Dave Fenwick.
THANKS to in kind sponsors Level Excavation and Pat McCallister at Hood River Supply.
Turns out, this is only phase 1 - more to come - as the Greenhouse takes shape! Thanks to Rotarians Doug Campbell and Dave Bick, the Greenhouse was delivered this week.
It's a beautiful way to raise money
It's that time of year again! Rotary Rose sale - $25 per dozen, delivered on April 18, a Thursday in Hood River, or pick up at our lunch meeting.
To reserve yours, email HoodRiverRotary@gmail.com or the Rose Sale Chairperson, Chelsea at Cmarr@hoodrivernews.com
Rotary Scholarship announcements in May!
If you are local Hood River area student looking to continue your education after high school, Hood River Rotary is here for you.
Every year, deserving local youths get scholarships to help pursue their dreams.
Applications closed March 18th. Winners will be announced May 23rd, 2019 and checks will be awarded at the annual scholarship ceremony before you graduate.
Here's our group of awesome Hood River Rotary scholarship winners last summer - together, they were awarded $38,000..
For more information, contact is Ken Apland, digitaljeweler@gmail.com
You can be a Rotary Scholarship winner! Applications accepted NOW!
If you are local Hood River area student looking to continue your education after high school, you can APPLY NOW, through March 18 - every year deserving youths get scholarships to help pursue their dreams. Hood River Rotary Club is proud to continue this annual tradition
You must submit this electronic application by March 18th. Winners will be announced May 23rd, 2019.
For more information, contact is Ken Apland, digitaljeweler@gmail.com
Pictured:
This group of local youth altogether won $32,000 in scholarships in 2017. Another group were awarded a similar amount last year.
L to R: 2017 Rotary President Joe Guenther, Kloee Brown, Deyland Gudiel, Morgan Graves, Pico Sankari, Abigail Walker, Symeon Walker, Ricardo Valdoninos, Luke Holste and Rotary Scholarship Chairman Ken Apland.
Photo: Barb Ayers
Annual ski night is MLK holiday, Monday January 21! $15 lift tickets!
Ski your heart out - for a song - $20 lift tickets! For use 3-9pm on MLK holiday. This discounted ticket supports Rotary nonprofit community causes.
Every year on MLK holiday in January, we partner with Mt Hood Meadows Ski Resort to offer a low-cost lift ticket for an afternoon of skiing or boarding January 21, 3-9pm - Mt. Hood Meadows.
What is Rotary? Rotary Club is 1.2 million global neighbors, friends, and community leaders who come together to create positive, lasting change in our communities and around the world.
Hood River Rotary Club was one of the first, and still is one of the largest clubs in the state, even though we're a small community. The power of Rotary!
We give hundreds of thousands of dollars away each year.
Click here for more about Hood River Rotary commitments.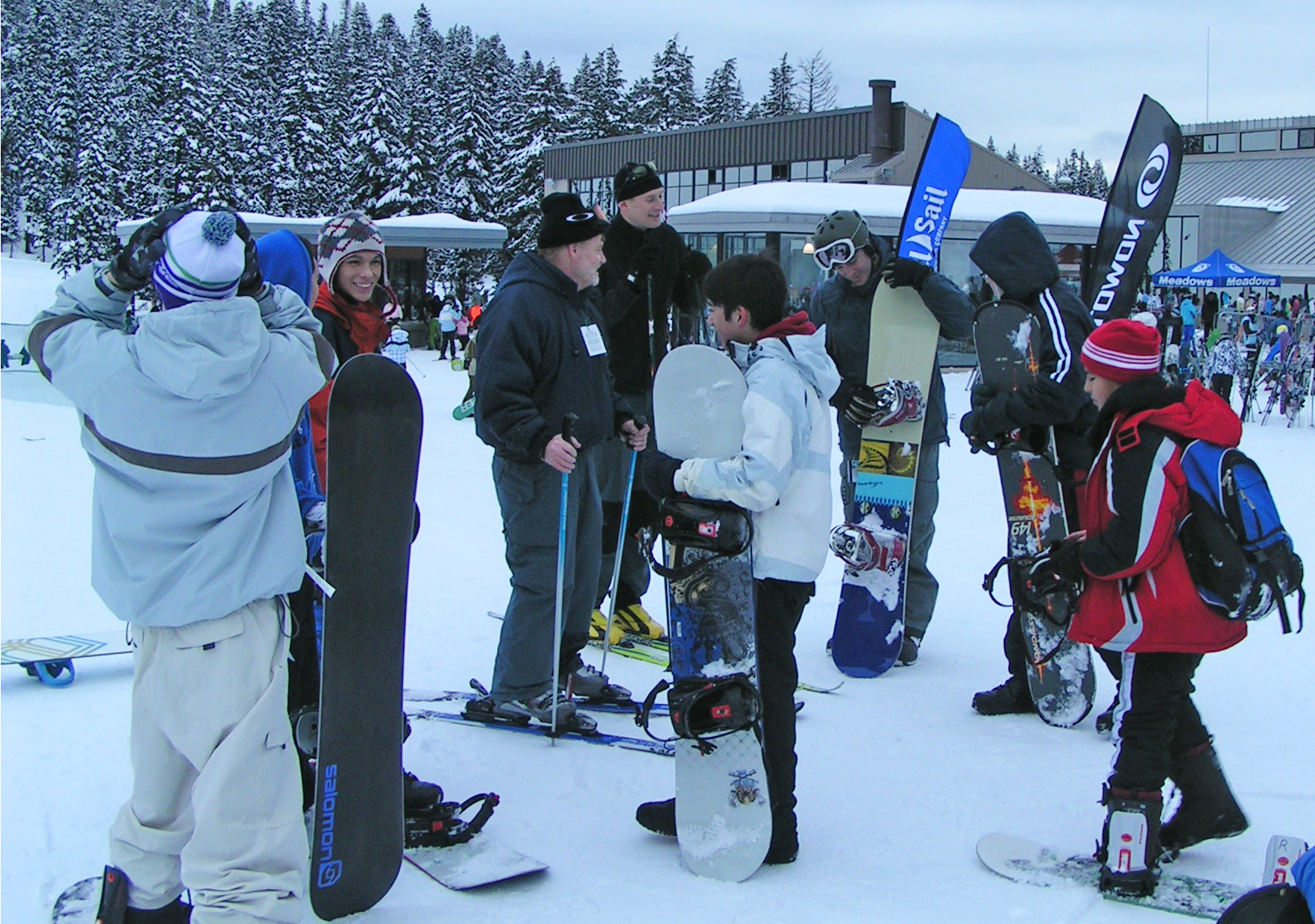 Rotary Ski night - $15 lift tickets - have fun and support your community!
These are first time snowboarders, with intermediates and seasoned pros at Mt Hood Meadows for Rotary Ski Night. Hood River Rotary club is proud to host this event every year. The lift tickets are discounted and proceeds support Rotary causes.
Get your tickets here - or just support the cause by buying tickets or donating.
It's payback time!!! Father in Law shaves Joe's head for charity!
Good heavens, look what happens when you leave Hood River Rotarians alone for a few hours during the holidays! Joe Guenther, new dad, former Rotary Prez, gets a makeover from his dad-in-law Craig Ortega, also a former Rotary President.
It's all in good fun and for a great cause- Joe's new "do" fetched $1,000 in Rotary donations to support local nonprofits!
Joe shaves his head for charity. $1000 worth!
Oh yes he did. Our past Rotary President Joe Guenther has his head shaved by current President Staci McCarthy last week to raise $1,000 for charitable causes.
Joe just celebrated the birth of his second child 2 days prior, so it's amazing he was even upright, let alone attending the annual Rotary Christmas Party, let alone getting buzzed.
We aren't your grandfather's Rotary club!!!
PS- that's his father in law on the left, Rotarian Craig Ortega, also a former Rotary President.
Children's Park reopens 9/22, thanks to our community
Hood River Rotary Club was proud to serve alongside the City of Hood River and many other service organizations, and hundreds of dedicated volunteers, helped rebuild our community's Children's Park on 9th Street, and save money.
The park reopens Saturday Sept. 22 and we couldn't be prouder. All those hours of sawing and building and painting and dreaming…. have come to fruition.
Is our community amazing, or what?
Photo by Kirby Neumann-Rae, Hood River News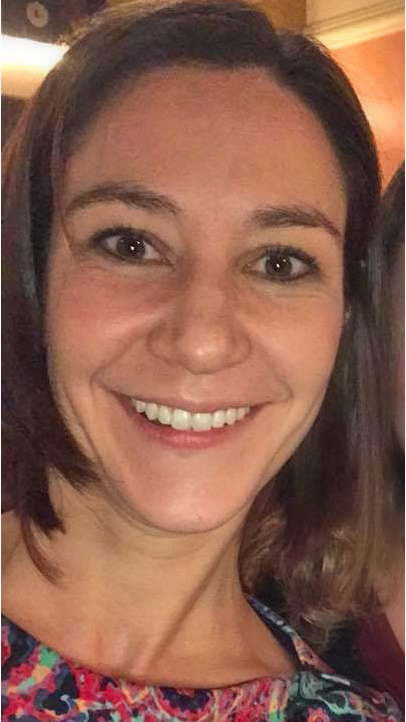 Warning! Fire plug President on board!
Watch out Hood River - watch out world… there's a new President in town - Staci McCarthy was just installed as our new 2018-19 Hood River Rotary Club President.
She's involved in United Way and has been in Rotary for several years. She's a bundle of energy - this will be an exciting year with Staci at the helm! GO, girl!!!
Oh yes we did, Hood River!
We were proud to work alongside you to make this a reality!
A thousand smiles, all across the world...
Hood River Rotary is pleased to support Kendra Keillor, the daughter of one of our Club's members who traveled to St. Lucia with Thousand Smiles, a non-profit organization, to provide dental care to local kids in need.
Our Club helped contribute funds to provide two suit cases full of tooth brushes and dental supplies.
Walking the talk
It has been said that, "with a good friend, the hours are short." That statement proved true with the recent I-84 Clean-Up project.
An on-looker may have viewed our gathering with an air of misery. After all, picking up rubbish (and other items of mystery) strewn along a noisy freeway could be, to a reasonable mind, a chore.
But by adding friends and the Rotary spirit, the project made for a surprisingly enjoyable Saturday morning in furtherance of the greater good.
Fellowship through service is one of the pillars of Rotary.
According to Rotary International, one of the objectives of Rotary is the "advancement of international understanding, goodwill, and peace through a world fellowship of business and professional persons united in the ideal of service."
I cannot say that picking up garbage is a solution for world peace.
But I can say that we all came together on a Saturday morning to improve our local community, at least in one small way, and we had fun doing it.
Thank you for everyone who participated in this CleanUp project, and for everyone who serves on the Public Service Committee. Future opportunities abound.
- Erick Haynie, President, Hood River Rotary club
Apply for Rotary scholarships through March 19
Application period is now closed - try again next season. Our annual Rotary scholarships to support continuing advanced education for local youth. Applications were accepted February 1 - March 19.
Every year, we donate between $30,000-40,000 in scholarships to help high school graduates from the Gorge.
It's our single highest community commitment each year. Because youth are the leaders of tomorrow.
"Wish you were here" - President Erick 'n friends
Mt. Hood Meadows Ski Resort came alive on MLK holiday, for our annual Hood River Rotary Ski Night fundraiser. Here, Hood River Rotary President Erick Haynie, daughter and friend are having fun and giving back....
Keep up the good work, Rotarians 'n friends!
Part time elf, full time Rotarian
Rotarian Branden Buel leads the Christmas cause! Our annual kids Christmas Party just happened and this guy's in charge. He must have a special bat phone to get Santa to make a special appearance at our event!
This is what we were all going for - happy, healthy kids - at Parkdale Elementary!
600 linear feet of trail - 500 volunteer man hours - generous donors. And... Presto! A new Fitness Trail opens at Parkdale Elementary!
Parkdale Principal Gus Hedberg and Rotarian Jon Davies shared details about our community service project, installing a new Fitness Trail with Fitness Stations to Parkdale Elementary School, at a recent Rotary meeting.
By the numbers:
$17,000 project - $5000 donated by Hood River Rotary, $2000 by Rotary District #5100 and $10,000+ by Parkdale PTO.
600 linear feet of trail
9 pop out exercise stations.
103 2x6x16 boards moved lovingly by Rotarians Doug and Paul
4400 square feet of ground cloth
Over 4000 cubic feet of bark chips
72 volunteers – 500+ volunteer hours - one long weekend
Special thanks to:
Outrigger Canoe Club
Parkdale PTO
Principal Gus Hedberg
Parkdale Elementary School Students
Hood River Supply
Hood River Rotary Club
Rotary District 5100
Dale Kuykendall from Wenaha Group
Klein Surveying
Don Benefield from Hood River County School District
Bryant Pipe and Supply
Adam and Staci McCarthy
Together, we make a difference.
150 hours, 1 day = Rotary service
Hood River Rotary service projects span the globe and our small Gorge towns. The current project is building a new athletic play area for Parkdale Elementary.
Principal Gus Hedberg rolled up his sleeves and brought school volunteers for that last big push on day two. The goal was to get 'er done before the rains came.
A big thank you to Pat McAllister at Hood River Supply and other local business donors who helped.
Rotarians Jon Davies, Todd Clay and George Economou show us how to get things done.
Rock and Roll Rotary Installation concert
How cool is that? Our new President, Erick Haynie, pianist on the right, played with amazing musician Tony Smiley at President Erick's own installation dinner.
One of the amazing things about Rotary is the kind of people it attracts. As in high quality people that like to give - and give back. That are talented, smart and oh by the way, successful. It makes us proud.
You GO, President Erick! This was your coming out party!
That's our club. That's our Columbia River.
We're a large club for such a small community. With a variety of ways for you to get involved - or support our work. Please join us!
Photo by Richard Hallman
It doesn't get any better than this!
Rock - and - ROLL Rotary!!!
It's a four man band - helping to celebrate a new year for Hood River Rotary with new President Erick Haynie at the helm.
Left to right: John Durkan, M.D.; Paul Thompson, Real Estate Broker; musician extraordinaire Tony Smiley and President Erick Haney - our hero!
Wine and Golf - supporting local scholarships? What could be better?
It is THIS Sunday - support Hood River Rotary as we raise funds for local scholarships. Sip wine. Join our wine raffle. Donate. Golf - or just watch. Join us.
Service project: Hood River Middle School
It was a rainy, muddy day and there was a lot of elbow grease involved.
As always - spirits were high. We Rotarians like giving.
We were joined by Crestline Construction, a local firm that donated the big equipment, and a guy to run it. The rest of us Hood River Rotarians did the manual work. Digging, weeding, raking, hauling, dumping.
It felt good. We cleaned up the Track at Hood River Middle School before school started back up.
Thank you, Michael McElwee and Jack Miller, our Rotary Service Committee team leaders!
(Not pictured - photographer Michael McElwee)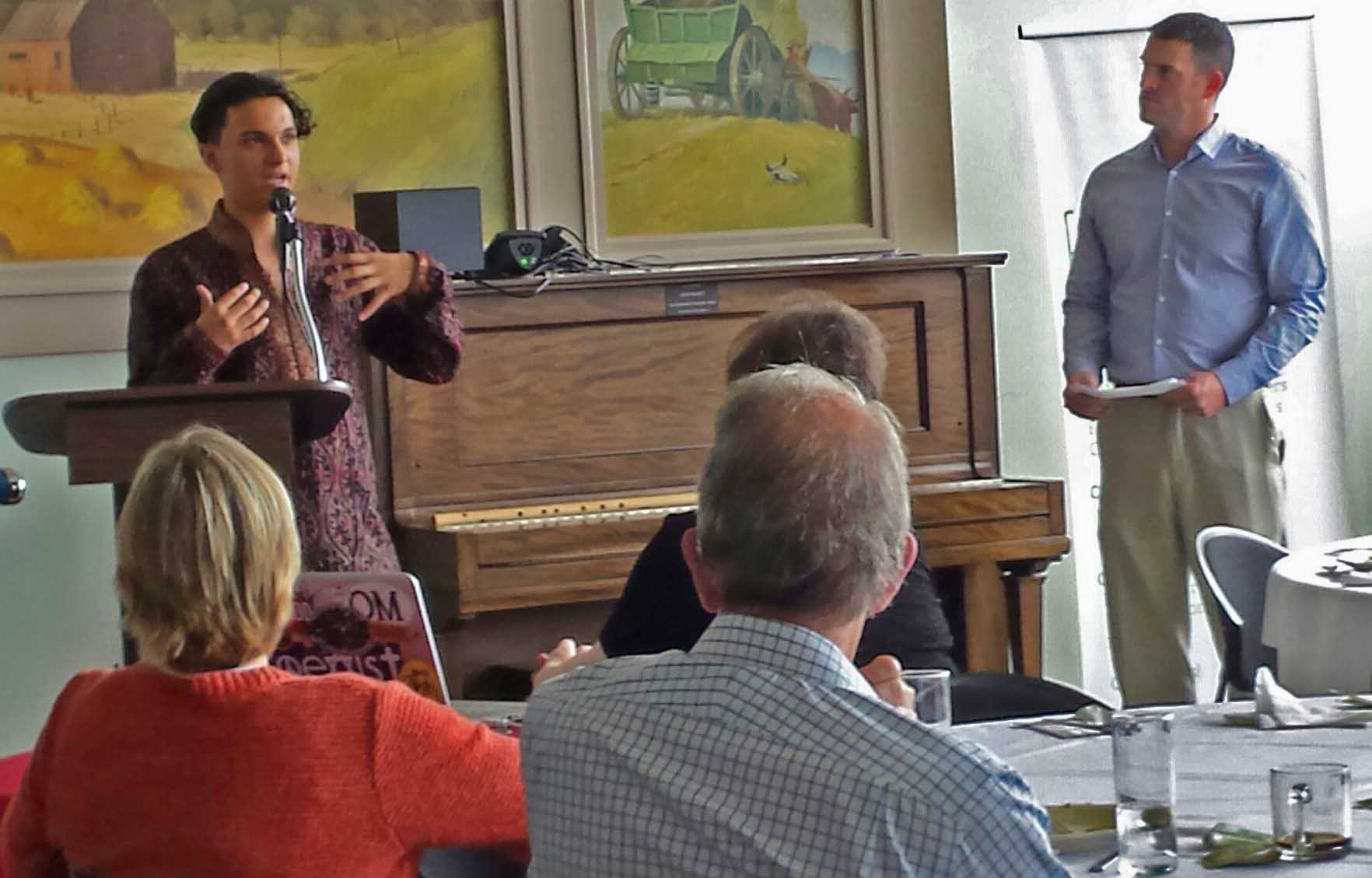 Rotary international exchange builds goodwill and better friendships
Hood River student Deylan Guidel, dressed in traditional dressy Indian fare, recently returned from a Rotary exchange in Nashik, Maharashtra India. There he lived with a local family and volunteered at an orphanage, then came home to graduate from Hood River Valley High School (HRV.)
Deylan applied his skill in art and video to convey messages of social justice and peace. He taught art to kids at the orphanage. Together, they created murals about world peace and friendship.
One of the Rotary four way tests of the things we think, say or do:
- Will it build good will and better friendships?
The Rotary exchange builds goodwill and world friendships - one person, one family, one community at a time. For a lifetime.
Making a two-way connection with India
Two high school grads – one from Hood River – one from India. Both, Hood River Rotary exchange students. To- and from- India.
On the left, HRV grad Deylan Guidel who recently returned from a yearlong Rotary exchange to India.
On the right, Aryan Argrawal, a Rotary exchange student from India, who lived here and schooled at HRV, who's now heading home from the US. Aryan skied Mount Hood, tried LaCrosse, went to a Timbers game and shared his infectious humor at Rotary events. He helped Hood River Rotary club dedicate a Peace Pole with the international message "May Peace Prevail on Earth."
The Rotary youth exchange program builds good will and better friendships. Two ways. Across oceans, geography, ideology.
Photo: Barb Ayers
Scholarships for local high school students to help them pursue their dreams
This one is close to home. Every year, Hood River Rotary awards tens of thousands of dollars in scholarships to local kids - our largest annual cause.
Because youth are the future of our planet.
Invest in them and you'll reap a lifetime of rewards.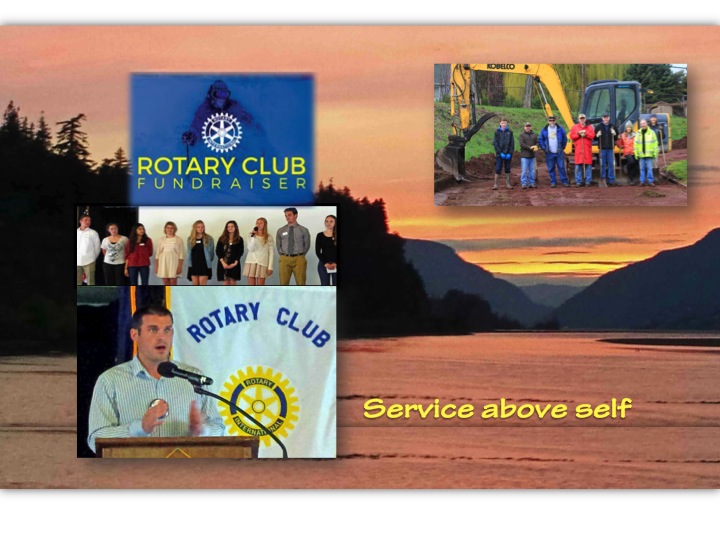 Hood River Rotary Club
A nonprofit community service organization since 1927. Serving the community of Hood River, Oregon. Supporting Rotary projects worldwide.
Roll up your sleeves...
We're here to serve.
Service project at Hood River Middle School, cleaning up the overgrown track, where kids run and jump and play.
This time, Service Committee Chair Mike McElwee is in the shot - fourth from the right - making sure we give credit to equipment sponsor Crestline Construction.
Hood River President Joe Guenther
He's a dynamo - a financial planner - a husband, dad, son - and a committed community servant. He leads us through the sea of Rotary projects and keeps us on track each week.
A new Rotary President is installed each year. Joe was our leader for 2016-2017.
In July 2017, a new President takes over, Erick Haynie. The leadership rotates through each year and you move up to the top spot after learning the other roles first.
Thank you, Joe for your amazing service.
Erick, we're here for you!
Rock and Roll Rotary!
Can you believe we have our own rock band? What can we say - Rotarians have it going on.
All ages - all skills - bring it.
Rotary Rockers: Attorney, Real Estate Broker, Attorney, Doctor
And all of them - talented in so many ways. We're thrilled to have so many dedicated community members like these - to give back to our community through club service. And they best part is, they entertain us along the way!
L to R: Legal eagle Johnson Dunn, Real Estate broker Paul Thompson (Past President,) attorney Erick Haynie (President Elect) and John Durkan, M.D., orthopedic surgeon.
How's that for an all star musical team?
Rotary Club rockers - the original
Our Rotary Club has 90 years of history. We're proud of that. Who knew we'd have rockers then - and now?
Photo courtesy: The History Museum of Hood River County
Santa is a Rotarian, too!
Of course he is!!! When there's a chance to build goodwill and better friendships.... you'll find Rotarians. It's part of the 4-way test of the things we think, say and do.
Santa makes a special trip to Hood River every year to help us share the spirit of the season with local kids. Every kids in class goes homes with a special gift.
See 'ya again 12/20, old man.
Our volunteers and members are multi-talented
Savvy businessmen and women by day - talented in many other ways after hours.
L to R: Rotarians Ken Apland (jeweler) and Doug Campbell (retired retail magnate) share their accoustical talents with us.
No one can say No to Gordy and Terri
Not Zoey the dog either....
And that's a good thing, when it comes to raising money for deserving charities. That's what Rotary does.
Gordy Sato's the unofficial Mayor of Hood River.
Can't. Say. No.
Terri Vann was a Principal in Hood River School District for years - then was District Director of Curriculum. No way you'd say "no" when she rings the bell. You went to school with her - so did your kids! She's given more than anyone else. We owe her. Like so many other Hood River leaders, she volunteers for Rotary.
Women and dogs - and ringing bells
Hi! I'm Hood River Rotary webmaster Barb Ayers with my dog kids from DogDiary.org ringing the bell at Christmas for Salvation Army. Our pets are Rotarians, too. We are in this together.
I have a day job as Emergency Manager for Hood River County. Hood River residents here are my family, too.
He's a winemaker, a business man and a singer, too
Meet Steve Bickford, owner of Mt. Hood Winery, pillar of our local community, Rotarian and... musician, too.
Crab feed - seafood extravaganza!
Every year in spring, we go all out for our members... the finest, freshest crab you can find... at the annual Rotary Crab feed. With an auction to raise funds for service projects and scholarships.
Join our club - having fun and serving our community, meeting people and making wonderful life long friends - it's what we're all about.
Did someone say Rotary Crab Fest?
Oh yeah! The aftermath....
Women in Rotary
Here's former Rotary President Terri Vann, a retired school district executive. She's bidding on an auction item at our annual Crab Feed - the infamous Pendleton Roundup Party. There's nothing Terri wouldn't do to help our community...
Bowling for Kids Sake
Even if we aren't the world's best bowlers- we're always up for helping the community!
Here's our rad team from last year - Hood River Rotary bowlers in Bowl For Kids Sake, a benefit for Big Brothers, Big Sisters, a wonderful program managed by local nonprofit The Next Door.
We don't need tools - we crack crabs with our bare hands
Or at least this young and strong club President does!
Ok, just kidding. It's bread.
Joe Guenther breaking bread at our annual Rotary Crab Feed.
Did someone say women and dogs and ringing bells?
We have a cross-town rivalry going with the Lions Club - to see who can raise the most money for Salvation Army while ringing the bell at the holidays.
That's when we pull out the big guns - the dog and pony show!
It's a duel where the community wins!
Photo: Rotarian Judy Dutcher and friends.
A thousand smiles...
Hood River Rotary is pleased to support Kendra Keillor, the daughter of one of our Club's members who traveled to St. Lucia with Thousand Smiles, a non-profit organization, to provide dental care to local kids in need. Our Club helped contribute funds to provide two suit cases full of tooth brushes and dental supplies.